We drove into DC today. As everywhere else, the roads are partly blocked by snow, and the traffic was worse than we've seen anywhere else (including NY).
As we approached the city, we saw Marine One leaving, presumably with the President on board, since there were two additional helicopters flying in formation. Again, like with New York, it was a bit eerie seeing sights that are so familiar, yet not. Weird feeling, like you've walked into your TV somehow.
Alex has become very interested in taking p
hotos this trip, which has mostly been great – except when we both want the camera at once, LOL! Sadly, we lost the second camera today – the one I bought in Times Square last week. Somewhere between the National Museum of American History and the car it went missing. Hopefully someone handed it in in the museum – we'll give them a ring next week.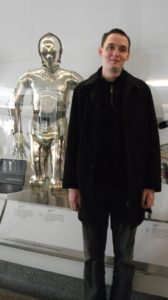 The museum was fascinating, we saw the original star spangled banner, a display on slavery and a 200 year old house which has been relocated from near Boston, showing various stages in its occupation. Alex was thrilled to see C3PO in the "flesh".
We were pretty limited in what we could do by a combination of snow and the number of spoons all of us had, so we drove around a bit and saw some of the sights from the car, including the Capitol, the Washington Monument and the Jefferson Memorial. Amazing how they've built temples to all these old Presidents – a very different attitude to past leaders than we have in Australia, or even than the British have to their royalty.
We stopped at the Lincoln memorial, got out and took a bit of a walk (or in my case, wheel) around. The reflecting pool (which runs between the Lincoln and the Capitol, and is over 600m long) was frozen over,
with tourists walking on it. Apparently someone fell through the ice a few days ago, and had to be rescued (it's less than waist deep, but the ice made it hard to get out). That doesn't seem to be stopping everyone else, though.
In various ways it's clear that America is still struggling economically. Homeless people outside the Whitehouse, no money for plowing or salting the roads, many roads aren't being repaired properly, and there are potholes everywhere. And this year the kids have missed a lot of school due to the snow. Normally, that means they extend the school year by a week to make up the days. But this year, they won't, since there's not enough money to pay the extra wages (teachers don't get paid during vacations here, so it's a big expense). Unfortunately, there is still plenty of cash to fund two wars 🙁
Alex, Scott, Jacqui and I walked to
the front of the Whitehouse, as Alex was keen to take a few pictures.